Pikelines Guidelines for Contributors
Contributions to 'Pikelines' from all PAC members are always welcome, from beginners, experts – and all those in between!
So why not have a go and try your hand at writing an article for your club? Articles should have a theme and can be a story, a technical piece, a historical or informative piece – but all should have an introduction, a middle (the main bulk of the article) and finally a conclusion.
Please consider other anglers and pike conservation, and DO NOT name specific waters and swims, especially if you are a visitor to the waters you are writing about. This should also apply to your photographs, which should not include recognisable features in their backgrounds.
Text for articles, news and letters should ideally be emailed to:
harper.co@talk21.com as a Word text file, or simply pasted into the email, if text is brief.
Please do not 'design' your article, or embed photographs within the text.
Please do not type your article in caps.
Please do not use the '&' symbol, but use the word 'and'.
Please write numbers less than three figures as words, or more as numbers, i.e: 'thirty' and '350'.
Please write catch weights as this example 32.09
Please write dates as this example:
29th January, 1983.
Images should be digital JPEGs, and of at least 1MB in size, larger if possible. Mobile 'phone images are usually not of high enough quality for reproduction.
Please do not embed photographs in your text files, but supply them separately.
Photographs: Good quality prints or slides are also acceptable. Please send by recorded delivery and enclose a stamped addressed envelope for their return.
Captions: Photographs should be numbered sequentially and captions should be included at the end of the article, with corresponding numbers.
Please send all postal contributions to:
Stephen Harper
Harper Fine Angling Books
Manor House Barn
Reepham Road, Foulsham
Dereham, Norfolk, NR20 5PP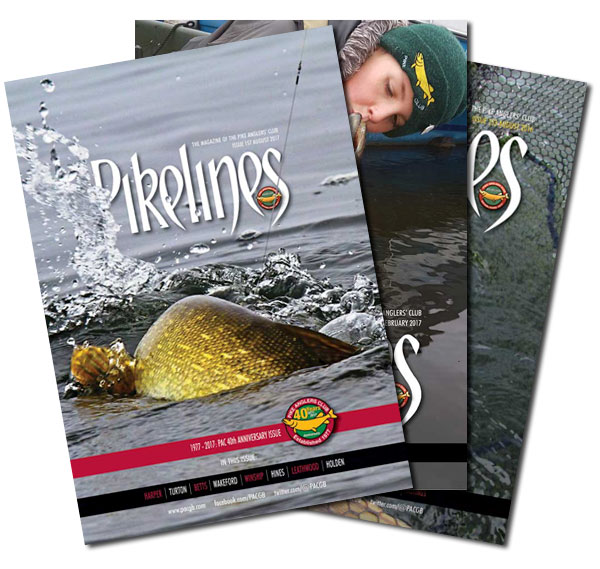 PLEASE NOTE:
Views and opinions expressed within the pages of 'Pikelines' are those of the persons names as contributors, and are not necessarily representative of or in agreement with PAC policy, values or accepted conduct.
The PAC reserves the right not to publish material deemed unsuitable or contrary to the values, ideals and the constitution of the PAC.
PHOTOGRAPHS USED IN PIKELINES OF ANGLERS AFLOAT
We try hard not to include photographs in 'Pikelines' of anglers afloat NOT wearing life-jackets. However, there are rare occasions, especially with old photographs from the past, when photographs are very important to an article. We will always flag up these instances to 'always wear a life-jacket' but it is important not to rule out completely these photographs, especially the extensive and very important archive of past pike fishing photography that is of such interest to our members.